What to do? Who to call?
Plan and Prepare for Emergencies, Life-threatening Events, Serious Injury, Fire, Chemical Spill
Immediately call 911 in the event of any life threatening emergency. This includes:
Ambulance
Fire
Police
Serious injury or illness
Chemical spill or toxic gas release
Electrical shock
Pre-plan the locations of emergency equipment in your area including fire extinguisher, fire alarm pull station, and emergency eyewash/shower. In the event of building evacuation, know where your building assembly area is located.
Call X6999 (510-486-6999) to report non-emergency events such as:
Small chemical spill
Minor injury
Suspicious activity
Traffic Incidents
Near-miss events
Security events
For personnel with special access needs, please see: Emergency Planning for Workers with Access and Functional Needs
For Emergencies:
Call 911 from any phone
 
For Non Life-Threatening Emergencies:
Lab phone dial  x6999
Cell phone dial 510-486-6999
Emergency Response Guides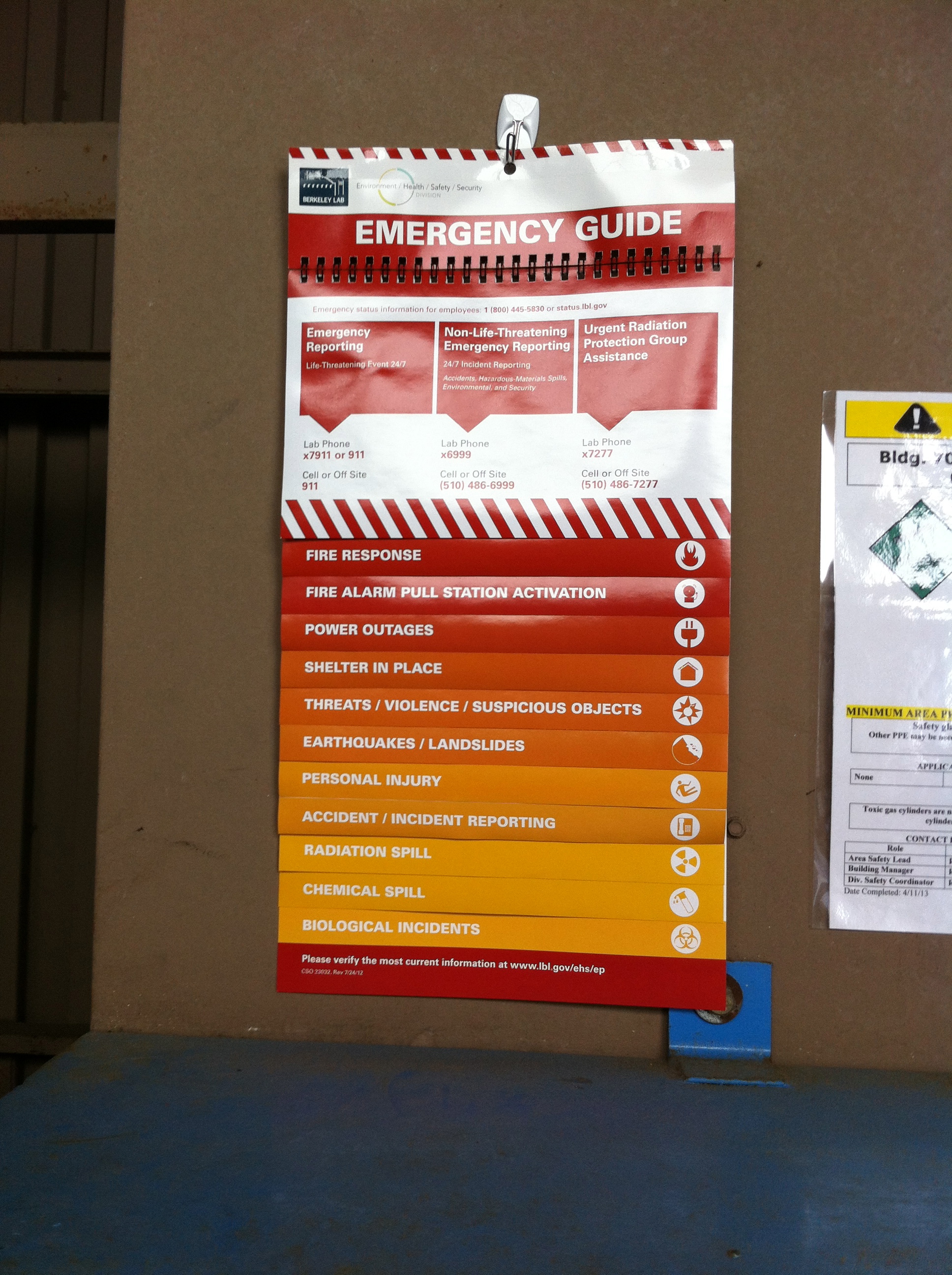 Emergency Response Guides, listing procedures and what to do in case of personal injury, fire, chemical or radiation spills and accident and injury reporting, are posted in the hallways of all ETA buildings and inside each lab area.
Security and Emergency Services website: securityandemergencyservices.lbl.gov/
Building Evacuation
Building evacuation location maps are posted in all ETA building lobbies and main hallways.
In the event that the building fire alarms activate, immediately evacuate the building.
Evacuate the building immediately.
Walk, do not run.
Do not use elevators.
Report to your assigned building assembly area.
Do not leave the assembly area until instructed to do so
Accident Reporting
All work-related accidents require prompt notification -- no matter how minor. Report all accidents immediately to your supervisor and Berkeley Lab Health Services (X6266). EHS Division will initiate an Accident Investigation Report and submit the to the supervisor for review and corrective action. Further information regarding Health Services business hours, services and contact information can be found at: LBL Health Services
For EMERGENCY response to a serious or life-threatening injury or illness, immediately call X911.
For all non-emergency injuries:
Report the event immediately to your supervisor
Call LBNL Health Services at X6266 or go to Building 26 for a medical evaluation.
Call X6999 to report non-emergency or near-miss events.